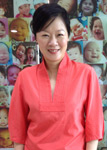 DR. CHUA YANG
Obstetrician & Gynaecologist
MBBS (S'pore), MRCOG (UK), FAMS
Graduate Diploma Acupuncture
Graduate Diploma Mental Health
Email: DrChuaYang@AClinicForWomen.com.sg
Dr Chua Yang graduated from the National University of Singapore. She is a fellow of the Royal College of Obstetricians & Gynaecologists, FRCOG (UK), and a Fellow of the Academy of Medicine, Singapore (FAMS). She also holds graduate diplomas in acupuncture and in mental health.

Dr Chua Yang is the director and specialist obstetrician and gynaecologist at A Clinic For Women, Singapore. She is also the founding director and head of women's health for Global Clinic, a non-profit organization. This organization represents a group of medical and dental doctors who volunteer their time and resources to provide healthcare services in remote areas around the world.

She is the President of the Asia Pacific Menopause Federation (2013-2017), after completing two terms as president of the Menopause Research Society of Singapore. She is the medical advisor of "Woman to Woman" Menopause Support Group and has also completed two terms in the council of the Obstetrical & Gynaecological Society of Singapore. She is an active member of the Association of Women Doctors (Singapore) and Osteoporosis Society of Singapore.

Dr Chua is a frequent speaker at CME programs and public forums. She has worked with private organizations as well as Health Promotion Board, Ministry of Community Development, Youth and Sports, Ministry of Defense, Ministry of Foreign Affairs, WINGS, SCWO, Singapore Cancer Society and Breast Cancer Foundation. She was invited by UNIFEM Singapore as the guest speaker of the September 2010 session of the "In Conversation" series to share about her experiences in medical mission.

Dr Chua Yang is on the editorial board of magazines like Motherhood, Wellness No.1, Health No.1 and Prime and frequently contributes articles for these magazines. She writes a regular column for Health No.1 Magazine on "Health and Happiness".

Her passion in providing medical care for under-served women has brought her to different cultures and communities. She continues to volunteer her time and energy for women in different parts of the world, including China, Nepal, India, Indonesia, Niger, Zambia and Myanmar.

In 2010, the Himalayan Women's Health Project was started by Dr Chua and cervical cancer screening and pre-malignant disease treatment was introduced to the community of women in Ladakh, India, who has minimal access to cervical cancer prevention by vaccination or PAP smear. The Project also teaches local doctors and nurses simple screening techniques for cervical pre-cancers as well as education to reduce perinatal mortality. Since 2009, Dr Chua has traveled to Ladakh yearly to continue and develop this project.


| | | |
| --- | --- | --- |
| In 2011, Dr Chua and a team of doctors and dental surgeons traveled to Luambe, Zambia to provide basic healthcare for an underprivileged community. There she treated many young women who started childbirths early and sustained complications from traumatic home deliveries, as well as HIV positive mothers who are often shunned even by their own families. | | |
She was nominated in 2011 by Singapore Women's Weekly for the Great Women Of Our Time Award.